Writing Center
❶As essential steps in assessment for learning and as learning, teachers need to: Our focus for each academic pathway is to prepare high-quality providers, leaders and educators in health care.
Table of Contents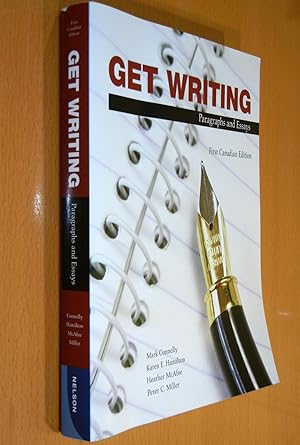 When you place your order through Biblio, the seller will ship it directly to you. This reflects the percentage of orders the seller has received and filled. Stars are assigned as follows:. Inventory on Biblio is continually updated, but because much of our booksellers' inventory is uncommon or even one-of-a-kind, stock-outs do happen from time to time. If for any reason your order is not available to ship, you will not be charged.
Your order is also backed by our In-Stock Guarantee! What makes Biblio different? Sign In Register Help Cart 0. Search Results Results 1 -2 of 2. The Canadian Writer's World: Pearson Education Canada, Ships same or next day!! This is the U. Spine creases, wear to binding and pages from reading. May contain limited notes, underlining or highlighting that does affect the text. Accessories such as CD, codes, toys, may not be included.
More tools Find sellers with multiple copies Add to want list. It's my last semester and I just look back on this degree as a humongous time sink which will thankfully pay off after I'm done that robbed me of family time, personal time, among other things. I feel you on the robot state. My parents asked me why I haven't called or tried coming home to visit in a while and it's hard making them understand that I'm not out partying or lazing around but that I literally am working on project groups almost every weekend during what they would consider my 'free time.
Definitely felt like a fleshy robot last week. Do you go to Carnegie Mellon? Because from what I've heard from a friend who goes there it sounds exactly like what you've describes. That's good to hear. Sometimes i feel a bit different about my University in regard to the "toxic competition.
There's been quite a few times where I have not understood something and it seems your classmates are more than willing to hang you out to dry. It's really crummy and I've really tried to get to know some people in my classes but I do get that feeling sometimes that some people don't actually want you to succeed. I haven't done anything but work, eat, and sleep since the beginning of February and lately there hasn't even been enough time for sleep. I had to carry a useless group on a project due this past Friday which started a domino effect of getting behind on everything else I need to do.
The only thing I do is go to bar trivia with some friends every Wednesday, but the last two weeks I had to bring my laptop and work during it. I was up working on that project until midnight on Friday. Yesterday my friends were out on the town all day and I stayed home working on homework for 14 hours. Looking at my schedule I'm not sure when I'm going to have a day where I won't have to work at least 12 hours. I feel the exact same way.
I'm in a robotic state so often that I don't even have time to think about how depressing my situation is. Very often I have to spend all waking hours of the day, from the moment I wake up until the moment I go to bed, working on assignments or studying.
Honestly, its a terrible way to live. In college, I would be finished with class anywhere from pm, and would have to grind the night away finishing work until am on most days not for lack of time management either.
At work, everything ends after pm. No homework, no assignments, no anything. I can just rest, relax, or do anything when I get home. I just feel so much better physically and mentally now. This is one of the contributing reasons why I can't stand the though of going back to grad school. It's like you're describing some dream world. I've heard that there are special days called "week-ends" there. Are the legends true? I'm calling bullshit on this one.
There could never be a place where I get paid to solve problems all day and get day's off! For some people, college is more high school. For other people, work is more high school. I think that is why attitudes vary so much. Good work place or a certain course load will make some places better. Some people get to the work place, and it's a complete mess-meaning anything is better than that. It would seem that different school's have different difficulty levels for sure.
One of my petroleum assignments probably takes hours on average. I'm certainly never up past midnight doing homework. I'm in my 4th year now and looking back, I think I had the most homework in my 2nd semester. Calc 2 and Physics Labs took a long ass time. Still I have never felt overwhelmed. I personally liked college in grad school now a little more than having a job.
My time scheduling is so much more flexible. I can do most of my work wherever I want, all of my friends with similar interests are nearby, and I get to research and work on topics that I find very interesting And when I was an undergrad, I did work my ass off, but I still somehow managed to make time for a social life and activities outside of school.
Of course, it can get and did get stressful sometimes, but overall, I find it enjoyable honestly. I know this may be kind of an unpopular opinion in this thread, but it is largely about time management.
In addition, it is largely about effort management. It's as much about knowing what you should be learning as well as being able to put in serious quality time and effort into learning it.
This helps you weed out what is important to learn and what you should catch from the tons of information being thrown at you. I knew several people who would study a good amount more than me, but when we would get together to study, it turns out they often spent a lot of their time studying topics that they professor said would not be covered heavily or at all on the exam.
They just weren't paying attention or skipped class when the professor stated this. It looked a lot like Community. College is better in some ways. Today, sunday, I have 11 hours between getting off work and going back to work. Doing a 21 days on and 1 day off right now.
Its shitty and nigh shift sucks. On the plus side robots and PLCs. We are hoping for a day off this weekend but production is running. Pay is not bad but it leaves no time to enjoy it.
We had a night off last weekend. Each week we are guaranteed 4 hours of OT even if we get the weekend off. Sunday is double time. Was closer to 60 this week. Something like 58 or so.
Havnt worked there long so still learning things. We are shooting for at least a day off this weekend as long as the higher ups don't give us anything new to do this week. That would be pretty close to 14 days on and 1 off. Our official schedule is Sunday night through Thursday night and 2 nights off. Doesn't seem to work that way! I see it the opposite. I'm working full time right now while working on masters , but being in undergrad was so much better.
I felt like I could just do whatever I want. Plus extracurriculars are awesome. I spent all 4 years on Formula SAE and two of them as a group leader. I felt so much more free. If you wanna get drunk on a Tuesday night and be hungover for class, you could if you wanted.
If you didn't feel like going to class, you don't have to. You can't do that in the real world. Plus you are away from most of your friends now that you've graduated. I feel like going to work everyday for the same hours is going to get boring pretty quick.
I missed one day of class this semester for a doctors appointment and it multiplied my workload. I had no idea what my biochem and controls professors were talking about when I got back. I had to go to office hours. It really was a sacrifice. That's the maddening part. I can't even escape it for one day without it punishing me lol. And my first senior design project is due when we get back from spring break It's group work so I can't just take care of it myself when I get back. Maybe I don't have to go to class, but I pretty much do if i don't want to fail that class It's because some people didn't find college that difficult but it's frowned upon for mostly good reasons to talk about it.
And there's a good chance their job doesn't end after they go home. Yeah I mean holy shit. I'm on coop this semester and I am so much more relaxed. I get home by 4: I'm one of those engineers that miss college. My schedule was usually 8ampm pm M W F, 10ampm 1pm-4pm Tuesdays, and 12pm-5pm Thursday labs. While the homework and studying added another hrs per day, I never studied or did homework on weekends by principle. Overall I prefer college because most of your hrs at school involve sitting in a class listening and writing.
My classes were mostly close knit because we were all EE students together for almost 3 years. It was almost like learning by committee, everyone learned the gist of it and we helped each other out with one or two topics that someone didn't get. It's much easier than agonizing over a design or stressing because another company's engineer hasn't responded to your RFI and your deadline is at 4pm today.
You don't have to speak in meetings with 10 managers or customers. You don't worry about getting laid off from work and how it would look on your resume. You have 3 months off in the summer and a month off in the winter, with a few 1 week breaks scattered in between. You're literally surrounded by hot college girls, and everyone is around the same age and have the same interests.
Well, you can decide to take less classes at a time, it's easier that way, but it also means it can take much longer to complete the program. Just treat college like a job. There is no need to work outside of those hours if you learn efficiently, which should be the real aim.
I don't know where you go to school, but that won't nearly cut it at my uni. We have 8 hours scheduled each day. I'm in class 9 hours a week, but for every hour I'm in class, I spend roughly three hours outside of class.
Tack on thesis, a board position, and lifting 3x a week, and I'm doing 9a-9p every day at minimum. I've been trying to do something like that this semester, but Mon-Fri definitely won't cut it.
It has to be more like Mon-Sat. Be prepared for the fact that many engineering jobs are not But I think some of the most interesting jobs are like that. That's not entirely true. Of course there are engineering jobs out there, but sometimes you have to take what you can get for your first job.
It's those 3 credit hour classes with labs that kill you. Take four 3 credit classes with labs and you literally spend every minute in lab or writing lab reports.
My biochem class is 3 hours but it also has a recitation. My senior design class is 3 hours but actually has a lab so we meet 6 hours a week. My ethics class is 3 hours but actually has a 2 hour recitation on top of it. Ugh, man, screw recitations! If you get nothing out of them, you can't even skip because the professor will hold your grade hostage with a "pop quiz" or some other ridiculous idea, just so he can guarantee an audience to himself.
It just bugs me that for the ones that aren't worth attending, there's often some way that they force you to attend I'm taking "only" 16 credits including 3 labs.
But 4 of the classes have group projects, and the others frequently take a lot of time to figure out the homework. I think it's a senior semester thing. I havent slept over 6 hours more than once a week. Almost all of my classes this year have had group homework.
It has made time management so much more miserable because I have to coordinate with other people just to get weekly assignments done. I can't get things done when I want, I have to consider other team members in almost every class. And there's always that group member that seemingly not pulling their weight.
Exactly on the group homework. It disrupts everyone's schedule since it forces you to do things in bits and pieces, or to meet at really inconvenient times. And RE the real world, I'm a nontraditional student.
I've worked full time before. This is much worse. You might as well hear the worst case scenarios so you aren't deceived into thinking it doesn't ever happen.
Mind you, it won't be years of straight misery. There will be rough weeks and miserable semesters but there will also be fun moments and cool things. Some years are better than others. You just gotta decide if you're willing to power through those years.
That's why our degree is special. Hell, I wasn't even sure that I was ready to stick around for the whole thing. But there just came a point where I stopped considering changing majors as a possibility. I deleted it from my mind, and from there, the only resolution in my head was to get to graduation. Just get to graduation.
That goal has carried my zombie corpse and now I'm almost at the finish line. I have a sweet job lined up waiting for me. Lots of time, money, and fulfilling work waiting for me. Sure it'll suck, but you'll learn to manage. Who knows, you might find it really easy. For me it was tough, though, to pledge a fraternity while trying to get good grades last semester. They're all full of shit. Its not, its hard as fuck, especially if you work during it, but there's plenty of things much harder. Also a lot of these comments suggest that the people writing them are depressed which is pretty consistent with the reddit demographic.
Engineering programs in Canada, and graduate school, are infinitely tougher than any US undergrad engineering program. Engineering in Canada is a cult. You don't want the bridges to collapse, do you? This link has helped me tremendously with time management. That link really meant a lot to me right now. I just got through my first round of exams for my second semester of engineering and I completely left each exam feeling incredibly overwhelmed and incapable.
I needed this boost to get me back in the fighting spirt. I've been using these techniques as I learned them myself over the years, but I wish I had seen an article like this 5 years ago when I was a freshman.
But now also as a 5th year senior who started working full time because the job offer was "we need you now or we're filling the spot with someone else" I am fucking over it. I am full apathy now. Low end of the curve, here I come! It took me almost 3 years of college to stop taking tests linearly. Sometimes a written question is tedious but is only worth 4 pts. There's a reason we engineers by default get the highest salaries of anyone. The president's day holiday was the first day where I didn't have a full hour day since the semester began 6 weeks ago, and I spent that time doing laundry and catching up on assignments.
Scotland here, 3rd year MEng student. Never have I been as busy as most of the people in this thread. Two jobs and still free time. Hence the 5 years to get your degree. Lots of engineering students in the US take 5 years to lighten the load. Completely agree, right down to the cold.
I just got bad grades on three tests I shoud've aced because I couldn't think clearly and didn't get any sleep. Youll learn that towards your last semesters it becomes more about sacrificing time in one place to make time in another. This can also be in one area of life. For example, I stopped meeting my friends at the gym most semesters because exercise was taking way too much time up that I could spend doing schoolwork during the week.
Another solution I had was sometimes skipping class to get the extra time. Yes, this created a downwards spiral of hell where I was constantly trying to catch up and master material from weeks past, and yes it lasted until finals. I dont like to refer to it as time management because time management is meant to help you create a better quality of life for yourself and engineering more or less took away all of my healthy habits for weeks at at time - which shouldnt happen.
I did community college for a year beforehand for anyone interested. You wont believe it until you finish later this year. Was it worth it? Youll constantly push your own limits in life. Sooner or later you will push yourself past said limit to get things done like you needed in college. Might as well do it now, because if you can make it in college you can certainly survive when you get to industry.
Often times it will come down to "do I spend 3 hours on this hw tonight, knowing I won't make it past the first problem, or do I spend 2 of those hours working on the lab report that's due later, but will require more time and is worth more, then sleep an extra hour. At least I think so, or that's what I tell myself to justify skipping a hw every now and then!
Fluids and measurement have labs. Fridays I literally have back to back to back classes from with a 1 hr break between each class 3 total that day Monday is my easy day with only fluids lecture at am. Then once that's done I have numerical methods 1 hour later. Tuesday and Thursdays, along with the weekends are for studying, hw, and lab reports.
Congrats taking fluids, thermo, design, eng Econ, enviro eng and am getting raped as well. Wouldn't make good money if it wasn't hard. I'm at the extension campus in Lancaster. So I pay all the money with none of the campus benefits. Time management is important, but I too would agree there just isn't enough time in a week.
I take pride in doing a good job, so I work my tail off to keep my 3. No kids, but my wife gets annoyed and angry with me for not spending more time with her - which sucks when you then feel crappy about bettering yourself and our situation. But I just keep plugging away and waiting for my hair to turn gray from stress and lack of sleep.
I'm too far in to quit now! After spending a year slaving at school, research, and losing a girlfriend and many friends over a lack of fucks given. I basically told my lovely professors to screw off. I'm going to finish school in May, and I am not going to grad school. But I met some of my best friends this past year, and I'm in a relationship of my dreams and so much happier.
I'm actually quite excited to be finished with school. It's still February but I'm already job hunting and have a few interviews lined up already! OP you got this. I am run ragged every week and sometimes my body shuts down and I fall asleep for 10 hours and I wake up thinking about how I wasted my time, letting my body fail me. Once you have your diploma you only have to work for 5 days a week, and 40 hours.
And if your employer expects you to do more, you can find a new job. Many weekends I wake up and don't know what I have planned, and sometimes even get bored. Hang in there, it gets better. Do you just live in an amazing state? Because all the engineers I've talked to, from the start of their careers to the middle to even the end, they work hours a week, and thank the heavens when they only have to work I just kinda wonder about the 5 day, 40 hour workweek, seeing as I really just have not met any engineers who pull it off, outside of a few self-employed freelancers who are just incredibly smart and licensed.
I got the same vibe from my engineering profs.
Main Topics